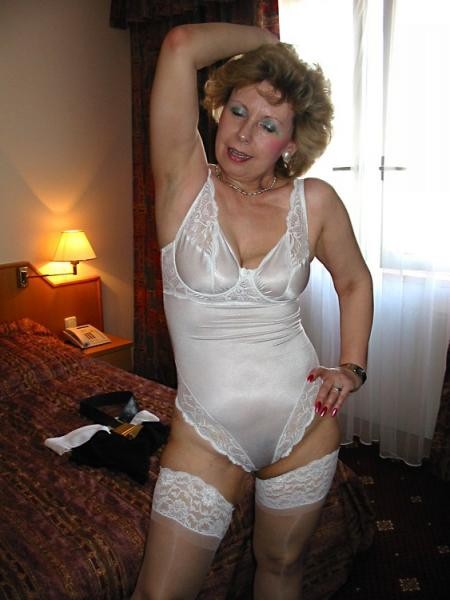 Clorice kissed the hot young stud, deeply sucking his tongue into her mouth.  She guided his hand inside her bikini bottom and felt those strong fingers slip inside.   She was soaked already, just from the casual flirting with this cutie.  He groaned as he pulled away, and said, "Win or lose, we are going to have some fun tonight!  I hope you come watch us, the field is a mile up the road at the park on the right."
With a slight smile on his face, he grabbed her hand and held it against the bulge in his pants.  Clorice's eyes widened is shock as she realized just how well endowed this young man was.  She rubbed her hand against him sensually, and smiled right back at him.  "By the way, my name is Rob.  I expect it is going to be a very interesting night tonight for sure!"  With a quick brush of his lips to her cheek he strode off, you could tell he was in a very good mood.
Clorice looked around the pool, she was all by herself, not a person there.  She decided, why not?  She got up, put on her shorts and t-shirt and headed to the game.  What the hell else did she have to do right?  She sat in the stands, sunglasses on, watching the game intently along with everyone else.  It was tied in the bottom of the ninth, and of course, her sexy catcher, Rob, was up at bat.  First pitch, a little close and he steps out of the batters box. That is when he notices Clorice sitting in the stands.  He looks directly at her and actually winks at her, his dimple peeking at her.  He moves back to the box and crack, hits that ball deep into left field, the runner on second scores and his team wins, thanks to his triple with and RBI.  As Rob is congratulated by his team and the crowd, he looks right at Clorice and says simply, "7pm", and leaves with his team.
Clorice looks at her watch and is almost disappointed at the time.  It is only 1:30pm.   With a gleam in her eye, she decided to go shopping, and heads to the mall.  Victoria's Secret is what she has in mind.  She is going to seduce the hell out of that kid tonight!  A new outfit and she is all set.  Back at the hotel, Clorice takes great care in getting ready, her hair is perfect, she looks damn hot, the sexy cougar ready to pounce!  Time to head to the lobby!  She is so excited, she knows she is already wet thinking of tonight!
She spots Rob in the hotel bar and realizes just how devastatingly handsome he is dressed so nicely in khakis and a polo, freshly shaven, hair perfectly in place.  He is talking to one of his friends who nods in Clorice's direction and exit quickly.
"You are good enough to eat now, aren't you?" Rob says with a small smile, revealing that dimple again.
"Well, you did say this would be a celebration." Clorice says coyly.  Rob moves forward,  and guiding her by the elbow, they leave the bar.  He walk down the hallway, toward the parking lot when he turns going down a different passage.  Puzzled, Clorice looks up at him just as he turns to face her, stopping them, pushes her up against the wall to deliver a sizzling kiss on Clorices' surprised lips.  The embrace deepens and becomes more passionate.  His body is firm, muscled and his hands are everywhere.  Clorice feels them sliding under her skirt, up along her the cheeks of her ass, caressing them.  His fingers move to the front and he dips one between those thighs, feeling just how wet and ready her hot pussy is.  His length is pressed against her and she can feel how ready he is for her too.
"Do you want to go out, or stay in?" Rob whispers in Clorices ear as he teases that lobe with his tongue.
"Definitely in!" Clorice says breathlessly, as Rob starts dragging her down the passage to the elevators at the end.  As the elevator doors close, he pulls her close, "What floor?" Clorice reaches out and presses 7.
"My jersey number," he says as he picks her up, backs her up to the wall and she feels his finger slide inside of her.  Pulling her thong aside with one hand, he opens his zipper with another and brings Clorice right down on top of his shaft in one fluid motion.  Clorice sighs with the pleasure of it and reaches out again and presses stop.  "No interruptions." She says as she rides his thick cock.  Clorice feels that pressure building and is amazed that she is about to cum so hard and fast.  Wrapping her legs and arms around Rob, she arches against him as she cums and Rob catches her moan in a searing kiss.
Slowly, Rob lifts her, steadying her and says,"We had to get that over with, now the real fun can start!" Depressing the stop button, the elevator starts moving and stops at the 7th floor.  "Shall we?" Rob says. Clorice only nods, still feeling lightheaded from her orgasm.  "Room key?" and she absently fishes it out of her purse and hands it to Rob.
The door open, this mature woman is thrown off guard as her sexy catcher, picks her up and puts her down on the bed.  "Now, where were we?"  He asks as he is stripping off his clothes.  His body is muscles, looking like a Greek god.  Clorice goes to  take off her blouse and Rob says, "Wait, let me."  Naked, he moved across the bed and deftly unbuttons her blouse, revealing the sexy bra she just bought. "Hhmm, I think I will leave this on," Rob says with a smile.  her skirt is next and he smiles as he notices that the thongs match the bra.
His mouth is everywhere and so are his hands. Clorices skin has goosebumps every place he touches. As his mouth moves over the juncture between her thighs, he sucks on her, panties and all, teasing her.  It is more than Clorice can bear.
"I want to feel you inside of me, now!" Clorice says and without further encouragement, Rob quickly pulls off the panties and slides his huge cock right inside.  He is ferocious, fucking her hard and deep.  Clorice cannot seem to help herself as she cums again and again.  They switch positions and she is riding him, straddling him, he is filling her completely. She moans loudly as she climaxes and sees the smile on Rob face change as he shares in that climax too.
Spent, Clorice is motionless, lying on top of Rob.  That is when she hears the knock at the door.
"Great!  My surprise is here!" Rob states with a wicked grin.  Gets up and walks to the door, naked…..
Call to find out what happens next!
Clorice
800-485-9561
https://myphonesexfetish.xxx/profile/4707-clorice.html