Next At Bat!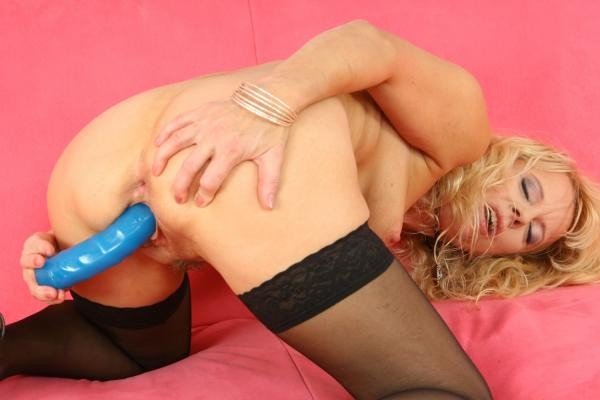 Darlene looked surprised at Rob as he withdrew from her wet pussy and went to answer the door, stark naked, cock hard as a rock!  He opened the door and the guy she reckognized as the pitcher walked in, wearing a pair of shorts and nothing else.  "I wasn't sure if you were ready for me yet?" he said.
"You bet, Frank, she is the hottest fuck I ever had and she knows it too!" Rob said this with the sexiest smile that I forgot I was trying to cover up my naked form on the bed.  They moved together, making quite the sexy pair and that is when it dawned on me that Frank was the pitcher and Rob the catcher.  They obviously did a lot together as pairs!
"Now, before you get all anxious with us, Darlene, we wanted to let you know that this is our fantasy!  We have always wanted to double team a sexy, mature woman like yourself.  Are you game?  I think you know that we had fucking great sex, now let's see if all of us can have the same!" As Rob said this, they got on either side of me on the bed, making me their little blonde sandwich.  Their hands started moving over my body, touching me.  Rob teased and caressed me lightly, just watching what Frank was doing to my body.  He was tasting me like a man who has been in the desert without any water for days, almost in a frenzy.  I went to move my hands, to ease and touch, but Rob held them, shaking his head, "Let him, he hasn't been with a woman in a while."
I did just that, letting Frank explore every inch of me with his mouth.  His tongue felt like satin and it glided across my wet pussy lips and clit, savoring my taste.  Then he slid inside, slowly, gently and I started to forget all about Rob.  I felt the pleasure building between my legs and I knew I was about to cum.  Frank knew it too, and took my face between his hands and kissed me, softly and then ravishing my mouth as I moaned into his and we both came.  Surprised, I looked to find Rob with a smile on his face.
"That was the sexiest thing I have ever seen!" Rob said, "Now, what kind of fun do you think we can all have together,  my sexy cougar?"
CALL DARLENE TODAY  FOR HER SEXY MATURE PHONESEX! HEAR THE NEWEST DETAILS OF HER VACATION!
DARLENE
1-800-485-9561
https://myphonesexfetish.xxx/profile/3215-dirty-darlene.html
Filed Under :
cougar
,
cougar phonesex
,
cougar sex
,
mature
,
mature phone sex
,
mature sex
,
maturephonsex
,
sexy cougar
,
sexy cougar phone sex
,
Sybil
,
wet pussy